EPIC HT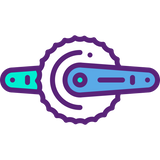 COLOR
GLOSS LAGOON / CHAMELEON EYRIS
GLOSS TARMAC BLACK / ABALONE
COLOR
GLOSS LAGOON / CHAMELEON EYRIS
Pickup currently unavailable at
Special Order
Our Good Ride Guarantee
Every bike includes a lifetime of free Ride Tune Up packages, a complimentary base line fit, & a 30-day money back guarantee.
Description
Features
Sizing
Questions?
You've seen the look. The, are-they-really-about-to-ride-that-on-a-hardtail look. Well, get ready to get it a lot more aboard the Epic Hardtail. Fast and light meets confident and capable in a bike that's been bred to redefine what's possible on a cross-country speed demon.
Working towards the lightest bike possible has long been the race within the race, but at what cost? The battle of the grams certainly hasn't been without its casualties, with hardtail XC race bikes coming to stand for a harsh, twitchy ride at the expense of capability and versatility.
But who said fatigue from fighting against your own bike makes you any faster? Instead, recognizing that the fastest bike is more than simply the lightest bike, we said out with the jarred-to-death tail, the measure-your-posterior's-sorrows-by-the-yard tail and in with the avant-garde tail. The ridiculously capable, mystifyingly comfortable, head-shakingly light and all-around fast, Epic Hardtail.
Sure, we optimized every inch of the Epic Hardtail frame to achieve the lightest production hardtail frame in the world anyway, but we also prioritized our commitment to creating an Epic Hardtail that's as capable as it is comfortable with aggressive singletrack-inspired geometry, increased tire clearance and a frame obsessively engineered for increased vertical compliance, all while creating a bike that lives and breathes the fundamentals of fast.
A RockShox Judy Gold fork and SRAM drivetrain highlight the build, effortlessly balancing both value and performance to impressive results.
Why Shop at Peachtree?
We've made it our mission to use bikes as a force for good, that's why every bike purchased here includes our Good Ride Guarantee, ensuring your journey on two wheels is a successful one. That includes a 30-day money back guarantee, a lifetime of complimentary Ride Tune Ups, & a complimentary baseline fit.