EPIC EVO S-WORKS LTD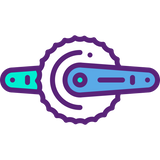 XX Eagle AXS Transmission
COLOR
GLOSS METALLIC OBSIDIAN / SATIN BRUSHED CHROME
COLOR
GLOSS METALLIC OBSIDIAN / SATIN BRUSHED CHROME
Pickup currently unavailable at
Special Order
Our Good Ride Guarantee
Every bike includes a lifetime of free Ride Tune Up packages, a complimentary base line fit, & a 30-day money back guarantee.
Description
Features
Sizing
Questions?
You know what they saywhen the grams go away, speed comes out to play. Benefitting from the lightest EVO frame weve ever created and the most aggressive iteration of our Progressive XC Geometry to date, the S-Works Epic EVO LTD made a few calls and assembled a dream team supporting cast to offer a capability-to-weight ratio that skips impressive and jumps straight to flat-out mindblowing.
While the Epic EVO sees a seemingly modest 20-millimeter increase in suspension travel up front over its Epic stablemate and just 10-millimeters out back, weve worked overtime to make sure its been implemented in a way thatll have you saying Whoa! as soon as you hit your first stretch of singletrack.
Meticulously engineered to retain as much of the Epics standard-setting efficiency as possible, the EVOs new suspension kinematics work in concert with Rx XC Tune customized suspension front and rear to ensure you're able to make the absolute most out of every inch of travel on tap, while still offering increased anti-squat characteristics for improved pedaling efficiency.
With plenty of practice at staying ahead of the curve, the Epic EVO now lays claim to the most capable iteration of our Progressive XC Geometry ever to grace an Epic. Its also more versatile than ever thanks to a new flip chip-equipped rear end that allows riders to adjust headtube angle and bottom bracket height to easily customize Epic EVOs handling characteristics.
For the S-Works Epic EVO LTD we also made sure that every last component to have the honor of gracing its FACT 12m carbon frame was just as dedicated to finding the ultimate balance of lightness, efficiency and hard-charging capability. For proof, just take a look at the seemingly logic-defying, stiffer-lighter-stronger masterpiece that is the new Roval Control SL wheelset, and SRAMs XC-light yet trail-tough electronic XX Eagle AXS group and wireless electronically-actuated Reverb AXS dropper post.
Why Shop at Peachtree?
We've made it our mission to use bikes as a force for good, that's why every bike purchased here includes our Good Ride Guarantee, ensuring your journey on two wheels is a successful one. That includes a 30-day money back guarantee, a lifetime of complimentary Ride Tune Ups, & a complimentary baseline fit.