TARMAC SL7 S-WORKS DI2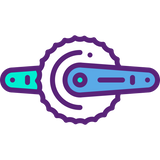 SIZE
44
49
52
54
56
58
61
COLOR
RED TINT/METALLIC WHITE SILVER/ SATIN BLACK
SATIN CARBON/SPECTRAFLAIR TINT/GLOSS BRUSHED CHROME
COLOR
SATIN CARBON/SPECTRAFLAIR TINT/GLOSS BRUSHED CHROME
Pickup currently unavailable at
Special Order
Our Good Ride Guarantee
Every bike includes a lifetime of free Ride Tune Up packages, a complimentary base line fit, & a 30-day money back guarantee.
Description
Features
Sizing
Questions?
Why should you be forced to choose between aerodynamics and weight, between ride quality and speed? Its simple, you shouldnt. Enter the new Tarmacclimb on the lightest bike the UCI allows, then descend on the fastest. Weve utilized our most advanced technologies, from our FreeFoil Shape Library to an all-new Rider-First Engineered frame, to deliver a race bike that is truly without compromise. The days of making sacrifices between aero and lightweight bikes are overthe all-new Tarmac is the fastest race bike, ever. One bike to rule them all.
To complement the worlds fastest frame, only the best components will dowhich is why youll find the likes of Shimanos Dura-Ace group with power meter and Rovals new CLX Rapide wheels with their exceptional stability and aerodynamic prowess. The S-Works Tarmac is a top-level race machine, right out of the box.
Why Shop at Peachtree?
We've made it our mission to use bikes as a force for good, that's why every bike purchased here includes our Good Ride Guarantee, ensuring your journey on two wheels is a successful one. That includes a 30-day money back guarantee, a lifetime of complimentary Ride Tune Ups, & a complimentary baseline fit.