STATUS 140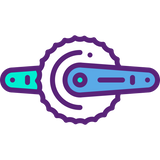 COLOR
SATIN RASPBERRY / CAST UMBER
SATIN OAK GREEN / LIMESTONE
COLOR
SATIN RASPBERRY / CAST UMBER
Pickup currently unavailable at
Special Order
Our Good Ride Guarantee
Every bike includes a lifetime of free Ride Tune Up packages, a complimentary base line fit, & a 30-day money back guarantee.
Description
Features
Sizing
Questions?
Sure, you can decide to buck the status quo, or you could just huck it. We chose the latter with the all-new Status 140. The result? Not just a new bike, but an entirely new platform that's changed our whole understanding of what a do-it-all bike can actually do.
But what's with the different-sized wheels? So glad you asked.Take the smaller wheelbase and shorter chainstays made possible by having a 27.5-inch rear wheel and pair them with the increased traction and rolling speed made possible by a 29-inch wheel up front, and you've got a bike that's ready to throw down.
Or, think of it as the ability to flick right but plow left into a tech-y switchback, straight-line it through that longer- than-you-thought stretch of chunder without breaking a sweat, and throw down some serious flair on your local flow trail, all in one nice, tight package. The Status 140 also adopts our Style- Specific Sizing that not only lets you find the right fit, but also get your desired reach and wheelbase to really let your preferred handling characteristics come alive.
Why Shop at Peachtree?
We've made it our mission to use bikes as a force for good, that's why every bike purchased here includes our Good Ride Guarantee, ensuring your journey on two wheels is a successful one. That includes a 30-day money back guarantee, a lifetime of complimentary Ride Tune Ups, & a complimentary baseline fit.